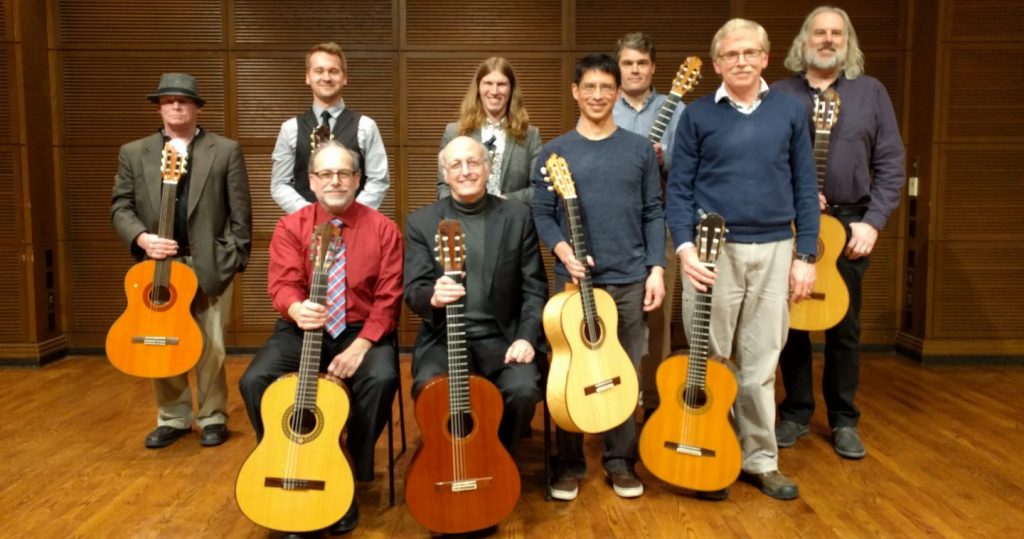 Jim McCutcheon of Centerville, Ohio has directed Dayton Classical Guitar Society for over 30 years. He is well known throughout Ohio as "Guitar Man" for his outstanding teaching, community outreach, radio shows (The Intimate Guitar, Saturdays @6pm and Sundays @9am on Dayton Public Radio), and fabulous virtuoso performances throughout the Dayton are. Truly a local product, Jim graduated from Wayne High School, University of Dayton (Physics), and Wright State University (Music/Guitar Performance).
In 2016, Jim asked several of his guitar associates to help him form a non-profit organization to continue the guitar society. A group of us met, discussed, voted, and formed the Dayton Guitar Society and received our official non-profit status in January 2017.
Our mission is the fostering, developing, and maintaining a high interest in the guitar, guitar music and guitar performance throughout the Miami Valley (Dayton, Ohio) region. Emphasis is the classical guitar and related styles.
We had our first members' performance Sunday, February 12, 2017 at the Sears Recital Hall at the University of Dayton. Performers included: Carlos Menendez, David Cool, Joey Swetlik, John Greenwald, Keith Lykins, Evan Fiehrer, Raul Ordonez, Tom Wittberg, and Jim McCutcheon.
Our signature event is GuitarFEst, afabulous outdoor three hour show at Stubbs Park in Centerville held in early September, featuring local and nationally known performers.
For more information please visit: daytonguitarsociety.wordpress.com