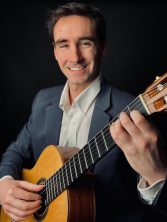 Dr. Connor Barney (Guitar)
Dr. Connor M. Barney received a B.M. degree in guitar performance from Wright State University as a student of Jim McCutcheon. He went on to Indiana University as an Associate Instructor where he earned a M.M. degree in guitar performance, as well as a D.M. degree in Music Literature and Guitar Performance, with a Doctoral Minor in Music Education. He competes regularly and has been awarded first prize in three international competitions, which garnered him a Carnegie Hall debut. Connor has taught at the Elementary, High School and Collegiate levels, and is the author of E Pluribus Unum: A Comprehensive Ensemble-Based Guitar Method, designed for beginners. Connor's free instructional videos, performances, and arrangements can be found on his YouTube channel, "Dr. Guitar". In his free time, he enjoys hiking, skiing, watersports, and playing chess (elo 1900).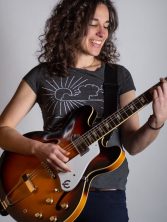 Kyleen Downes (Guitar)
Guitarist/songwriter Kyleen Downes has chosen music as her way to interact with the world. Raised in a constantly moving military family, Kyleen now calls Dayton Ohio her home. Kyleen has been teaching private lessons in the Miami Valley for over 10 years. She earned a Bachelor of Arts degree in Music from Wright State University where she studied classical guitar with Jim McCutcheon.
As an independent musician, Kyleen has written, recorded and released several collections of music (including two full length albums), performed at Levitt Pavilion Dayton and receives regular airplay on WYSO Public Radio. She co-founded Talking 'Bout the Young Sound, a program that teaches young musicians how to perform in a band on stage. She is an active performer and the host of a local open mic. Kyleen is passionate about guiding her students to explore their musical ambitions.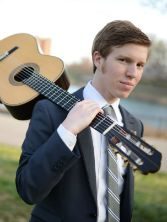 Evan Fiehrer (Guitar)
Evan Fiehrer is a guitarist with degrees from the College-Conservatory of Music at the University of Cincinnati and from the Peabody Institute of the Johns Hopkins University.  An accomplished classical guitarist, Evan has played solo and ensemble concerts throughout the Ohio, Kentucky, and Indiana areas, and along the East Coast as part of the Blue Guitar Quartet.  Evan teaches a variety of styles, including classical, acoustic fingerstyle, pop, and rock guitar.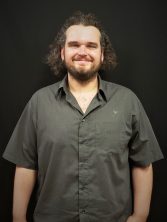 Gene Fortier (Guitar)
Gene has a bachelors degree in classical guitar performance and started his studies back in Massachusetts at Holyoke Community College and studied under John Mason and Philip de Fremery. Mr. de Fremery was a pupil of Andrés Segovia and dedicated a portion of his life transcribing recordings of Segovia and performing his music. From there Gene transferred to Cedarville University where he continued his studies and was given the opportunity to play in many diverse ensembles and the Cedarville Jazz Band. He has played with rock bands and currently plays with Viva La Strings. He offers lessons in classical, rock and jazz guitar.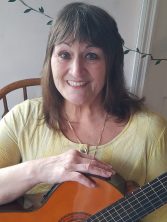 Lee Ann Kinner (Guitar/Voice)
Lee Ann Kinner graduated Magna Cum Laude with a Bachelor of Music in Music Education from Wright State University. Her concentrations were in Voice and Guitar. She attended the Conservatory of Music from the University of Cincinnati and received Certifications in Orff Schulwerk Levels I and II and is a Certified teacher of Kindermusik. Lee Ann has been teaching music at Miamisburg City Schools for the last Thirty years. She wrote the curriculum for Classroom Guitar which won Best New Curriculum of Southwest Ohio in 2000. She has won Teacher of the Year, Master Teacher, and Exemplary Teacher of the Year during her career at Miamisburg Schools.
Lee Ann Kinner has over 40 years experience as a Professional Singer/Guitarist and is known throughout the Dayton and surrounding area for her talent.
She enjoyed teaching Preschool music with Jim at McCutcheon Music and is looking forward to teaching here again. Guitar, Voice, and Ukulele are her specialties
Michael Locke (Guitar) [Temporarily Unavailable]
Michael Locke was raised in South Florida and began playing guitar when he was seven. He attended the University of Miami, majoring in Jazz Guitar. But then he heard the Blues! He found that in Blues music he could completely and freely express himself. Michael now calls Southwest Ohio his home and continues to receive praise as one of the premier blues guitarists in the area. To watch Michael give an introduction to his teaching style, Click Here!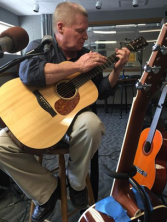 Keith Lykins (Guitar)
Keith has been teaching children and adults all styles of guitar in private and group settings for over 30 years. He received his Bachelor's Degree in Classical Guitar Performance from the University of Dayton in 1988 as well as an Ohio Teaching Certificate. He has continued studies in education as well as studied Flamenco Guitar, Acoustic Percussive Guitar and music from varied cultures. He taught at Sinclair Community College for 5 years as well as several private music studios in the area. Along with teaching at McCutcheon Music Keith performs in the Ohio, Kentucky, and Indiana areas.
Keith teaches all styles of guitar including Classical and Flamenco Guitar, Acoustic Percussive Guitar, Rock, Country, Blues and Jazz Guitar. Keith says, "One of the greatest things about the guitar is that it is used in so many different genres. I love teaching all styles of music." Keith's philosophy of teaching is that all learners are different. Thus, he uses a flexible approach. He uses a number of tools to teach including standard music notation, tablature and chord charts, providing an understanding of the language of music.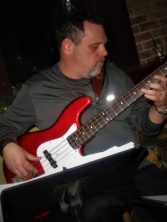 Vinnie Marshall (Bass Guitar)
Born in Lewistown, PA and raised in Bethlehem, PA, Vinnie teaches bass at McCutcheon Music. He spent 24 years playing bass for the Air Force Band and has traveled the globe playing music and received an Ina Love Thursby Music scholarship to Moravian College in Bethlehem, PA. He enjoys good coffee and has a podcast with a fellow bassist called "On Bass and Off Point". A fun fact about Vinnie is that his first gig with the Air Force was for Bob Hope.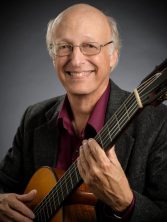 Jim McCutcheon (Guitar)
Jim McCutcheon, faculty associate in guitar, is listed on the Ohio Arts Council Touring Roster. He holds a B.S. in physics from the University of Dayton, a B.M. in guitar performance and a M.M. in Music Education from Wright State University. Because of his college teaching career, his extensive work with schoolchildren K-12 and the success of his music store/teaching facility, McCutcheon Music, which features over 50 professional music teachers for hundreds of students each week, Jim was awarded the 2017 Ohio Goveror's Award for the Arts in Arts Education. For more information about Jim, visit: jim.mccutcheonmusic.com