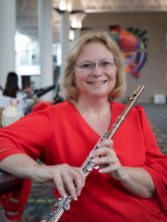 Jodi Boeddeker  (Flute)
Jodi Boeddeker is a performer and teacher in Dayton, Ohio. She earned her degree in music from Moorhead State University and her Masters of the Arts in Education from Lesley University in Boston, MA. She currently performs in several groups throughout central Florida, and Ohio, including Syrodesy Flute Trio, Miami Valley Symphony, Springboro Wind Symphony, Florida Teacher's Orchestra, Space Coast Flute Orchestra, and the International Flute Orchestra. She specializes in low flutes including the contra base flute. Most recently she won an audition to play with the professional flute choir at the 2021 National Flute convention.
Katherine deGruchy  (Oboe)
Katherine, a native of Bellbrook, Ohio, received her Bachelors and Masters in Music Performance from the Cleveland Institute of Music where she studied with the renowned oboist John Mack of the Cleveland Orchestra. She lived in Mexico City for 17 years where she played oboe and English horn with the Mexico City Philharmonic and other orchestras. Katherine performed the Mexican debuts of the Persichetti Concerto for English horn and the Honegger Concerto for English horn and Flute with the Mexico City Philharmonic. She also was a member of the award-winning octet Sinfonietta Ventus which recorded on the Urtext label and toured Mexico and the US including a concert in the Carnegie Hall recital hall in New York City. She also is an active member of the International Double Reed Society. In addition to being the Adjunct Instructor, Applied Oboe at Wright State University, Katherine also teaches oboe to younger students in several local schools.
Scott Gasaway (Saxophone)
As an educator, Mr. Gasaway was the Band Director at Hull High School in Hull, MA from 2011-2012, where he started a band program from scratch. He then went on to become the Band Magnet Director at Stivers School for the Arts in Dayton, OH from 2012-2018, where he directed bands in grades 7-12 and co-directed the Philharmonic Orchestra. He has participated in the Essentially Ellington competition, performed for TEDtalk events, performed at the OMEA Professional Development Conference in 2017, and opened for Motown legend, Smokey Robinson.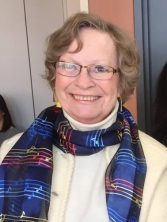 Nancy Harrison (Flute)
With a B.S.in Music Education, and Master of Music in Flute Performance degrees from CCM, Nancy has been teaching flute for many years. She performs with the Dayton Area Harp Ensemble, Sinclair Community College Wind Symphony, Dayton Playhouse, and Miami Valley Symphony Orchestra.
Joe Hesseman (Bassoon)
Joe has over 30 years of experience performing in professional orchestras and bands. Some of his professional credits include performances with the Cleveland Pops Orchestra, Cincinnati Pops Orchestra, Dayton Philharmonic Orchestra, Dayton Ballet Orchestra, Dayton Bach Society, Middletown Symphony, Whitewater Opera Company, Dayton Philharmonic Concert Band, Springfield Concert Band and 31 years as bassoonist with the Springfield Symphony (OH) Orchestra.
Haley Kendall (Clarinet)
Haley earned her Bachelor of Music Performance degree in Clarinet from Wright State University in 2000. She has been teaching clarinet in the Dayton area for over 20 years and performs regularly with many groups including Sinclair Community College Wind Symphony, Miami Valley Symphony Orchestra, Wright State University Symphony Orchestra, Kettering Praise Orchestra. Haley has worked at McCutcheon Music for many years and has often been a featured performer at McCutcheon Music recitals in the Renaissance Auditorium of the Dayton Art Institute. She enjoys working with students of all ages and ability levels.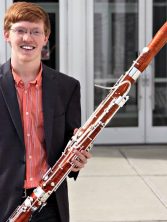 Curtis Magee (Bassoon)
Curtis Magee has received his Bachelor's in Music Performance (bassoon) from Wright State University, and his Master's in Music Performance (bassoon) from CCM, in Cincinnati. He has studied under Joe Hesseman, Bill Jobert, Martin Garcia, as well as performing in many masterclasses at Wright State, Bowling Green, CCM, and Glickman-Popkin. In addition to his college ensembles, Curtis has performed with the Kettering Praise Orchestra, Miami Valley Symphony Orchestra, and the Springboro Wind Symphony. He also has great experience in teaching marching band and saxophone. Curtis enjoys teaching students of any ability level, and is passionate about helping students get what they are looking for out of lessons.
Hal Melia (Saxophone)
Hal Melia plays woodwinds, keyboards, and EWI, sings, writes, arranges, and teaches all kinds of music.  His premier CD, WADUYATHINK, was released in 1993 on Positive Music Records and was a top 25 Gavin jazz CD.  With a Masters Degree in from the University of Cincinnati College-Conservatory of Music, Hal is now Associate Professor of Music and Director of Jazz Studies at Central State University in Wilberforce, OH. He has appeared in several major motion pictures and on many CD's as a guest artist and soloist over his long career. Hal is in high demand as a concert performer, clinician, and recording artist.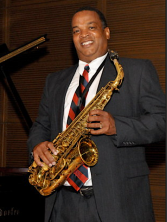 Willie Morris (Saxophone)
Dr. Morris teaches Saxophone performance and is the director of the Dayton Jazz Ensemble. He has been a professor at the University of Dayton since 1993 and serves as the associate director of athletic bands and coordinates jazz studies. Dr. Morris has been active as a performer, educator, and clinician since he began in his college years. He has been a concerto/aria finalist at each university he attended and has performed as a soloist across the country and in South America. Dr. Morris is also active as a marching band clinician, drill designer, and color guard instructor.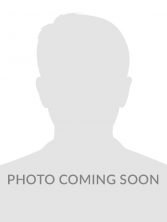 Inger Neighbours (Flute)
Inger Neighbours, flutist, received her BM in flute from the University of Arizona and a MM
from the University of Cincinnati College-Conservatory of Music, where she was a recipient of a
full scholarship. She has performed with the Springfield Symphony, Sorg Opera, Dayton Bach
Society, and the Lebanon Symphony in Ohio, has toured the United States as solo flutist with the
Mantovani Orchestra, and was recently a featured performer on WDPR's Music On Main. As a
member of the Musica del Sol wind quintet, she performed extensively throughout the United
States and Wales. Inger has been teaching privately since 1993, and currently maintains a
thriving private studio in her home in Yellow Springs, and teaches flute students in the
Beavercreek and Bellbrook Schools. Inger believes the Arts are an integral part of a well- rounded education at any stage of life, and has deep experience with students from ages five through eighty.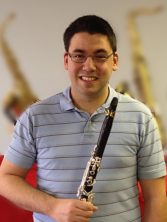 Matt Snyder (Clarinet)
Matt Snyder received his Bachelor of Music in Clarinet Performance from Wright State University. Matt's most memorable experiences in college include membership of the WSU Wind Symphony Leadership Council, serving as principal clarinet of the College Band Directors National Association, earning the Clark Haines "Most Outstanding Musician" award in the WSU Wind Symphony, receiving "Honorable Mention" in the Music Teachers National Association competition, and earning first place in WSU's Honors Recital.