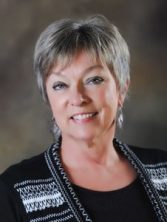 Maretta Alden (Violin, Viola)
Maretta Alden has taught throughout the Miami Valley area for over 30 years.  She was the director of the Dayton Suzuki Strings from 1983 until 2016 teaching all levels of violin and viola students.  She has also taught at Stivers School for the Performing Arts, was on faculty for the Miami Summer Music Camp and was the Kettering Strings Orchestra Director serving as concert master as well as personnel director from 1998 until 2016. She is a past member of the Middletown Symphony Orchestra and the Springfield Symphony Orchestra. Maretta has freelanced extensively with Wright State Theatre Department, Springfield Summer Arts, the Kuss Theatre in Springfield  and was a strolling violinist at WPAFB officers club. Maretta founded Elegant Entertainment in 1986 to provide live string music for weddings, corporate events and more. She is still actively performing with Elegant Entertainment.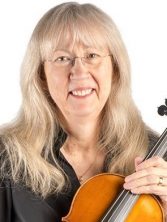 Colleen Braid (Viola)
Colleen holds a B. Mus. in viola performance and a B.M.Ed from Baldwin-Wallace College Conservatory and is assistant principal violist with the Dayton Philharmonic Orchestra. She also teaches at the Prelude Strings summer music camp in Kettering. She plays in the Dayton Philharmonic string quintet and teaches in the orchestra's SPARK educational program. She is the principal viola for the Lakeside Summer Symphony.
Jim Braid (Violin)
Jim holds a B.Mus. Performance degree from Baldwin-Wallace College Conservatory and received that school's Distinguished Alumni Award in 1985. He performs with the Cincinnati Symphony Orchestra and the Lakeside Summer Symphony. He teaches classical and popular violin and viola.
Lois Clond (Viola, Violin)
Lois Clond came from Kansas City, Missouri where she received her BS in music education from William Jewell College and her Masters in violin performance from the Conservatory of Music at the University of Missouri-Kansas City. Mrs. Clond has been teaching and performing since then. Her current duties include being the associate concertmaster of the Miami Valley Symphony orchestra, the orchestra teacher for grades 4-8 at Incarnation  Catholic School, and the conductor of the Da capo orchestra with the mvso youth strings. She also coaches chamber music with the students of the youth strings and has a private studio at McCutcheon music
Dr. Franklin Cox (Cello)
Dr. Franklin Cox received B.M. degrees in cello and composition from Indiana University, as well as composition degrees from Columbia University (M.A.), and the University of California – San Diego (Ph.D.), where he also served as adjunct faculty member from 1993 to 1995. He studied cello with Gary Hoffman, Janos Starker, and Peter Wiley, and composition with Steven Suber, Fred Lerdahl, Brian Ferneyhough, and Harvey Sollberger.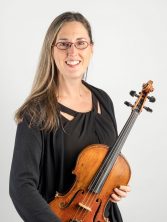 Sheridan Currie (Viola, Violin)
Currie began her musical training on the violin at age nine at her public school in Maryland. After earning her Bachelor of Music degree at the Peabody Conservatory of Music under the tutelage of Baltimore Symphony principal violist Richard Field, she moved to Cincinnati where she studied extensively with Masao Kawasaki and Dr. Catharine Carroll-Lees at the University of Cincinnati's College-Conservatory of Music. During that period, she earned a Masters degree and also served as teaching assistant for the Kawasaki/Carroll viola studio. Sheridan Currie is the principal violist of the Dayton Philharmonic Orchestra. Sheridan Currie teaches viola and violin privately, and is the viola professor at the University of Dayton and at Cedarville University. When she is not pursuing musical activities, she enjoys running, cooking, and spending time with her family.
Karen Johnson (Viola)
Karen Johnson is a violist with the Dayton Philharmonic with over 25 years of teaching experience. She received a Bachelor's of Music degree from Indiana University and a Masters of Music degree from Rice University where she studied violin and viola pedagogy with Yitzhak Shotten and Mimi Zweig. Karen also has Suzuki training (Books 1-6) and received an Outstanding Teacher Award from the Tennessee Governor's School. She enjoys teaching and is very much devoted to the idea that learning should be fun!
Hanna Lacey (Cello)
Hanna Lacey holds a B.Mus. in cello performance from Cedarville University and a M.M. in cello performance from Wright State University, where she graduated with the Outstanding Graduating Graduate Student Award. During her time at WSU as a Graduate Teaching Assistant, Hanna was a 2021 winner of the WSU Concerto/Aria Competition and her performance was aired on WDPR Discover Classical. Hanna currently works with the Springfield Symphony Youth Orchestra program as the conductor of the Youth Chamber Orchestra. She loves teaching and also performs locally as a free-lance cellist. She has loved music since a very young age and her favorite musical activity growing up was playing in youth orchestras and ensembles. Hanna lives with her husband in Bellbrook and enjoys plants, pets, and spending time with family.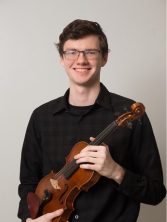 Ben Martin (Violin)
Ben Martin is a Dayton native who recently graduated from Miami University with 4 years of teaching experience gained during his undergrad, and has returned to Dayton in order to continue teaching violin and viola lessons. He has been playing violin for 12 years and was a member of the Dayton Philharmonic Youth Orchestra in high school. While at Miami, he studied under Dr. Harvey Thurmer, and engaged with orchestral studies, solo work, and extensive chamber music experiences. In 2020, he was invited to the Fiato al Brasile music festival in Faenza, Italy as a member of a quartet. Today, he is looking for opportunities to perform while also playing electric violin in a rock band. Outside of music, he enjoys reading, drawing, and being in nature.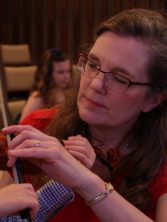 Sara Morgan (Violin)
Sara Morgan teaches violin to children as young as three years old using the Suzuki philosophy. Mrs. Morgan studied with Dr. Shinichi Suzuki at the Talent Education institute in Matsumoto, Japan. She earned a Master's Degree in Music Education with Emphasis in Suzuki Pedagogy under William Starr. She is certified by the Suzuki Association of the Americas through Suzuki Book 8. Mrs. Morgan has over thirty years of experience teaching violin. She combines her love of music with her enthusiasm for teaching children to develop fun-filled, nurturing violin lessons for families.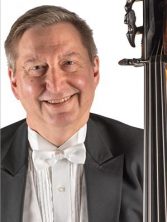 Jon Pascolini (Cello, String Bass)
Jon is an active musician in the Dayton area and performs with the Dayton Philharmonic orchestra. He also teaches on the faculty at the University of Dayton Music Department.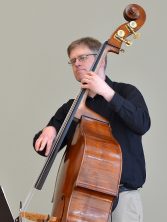 John Toedtman (String Bass)
John C. Toedtman holds a Bachelors degree in Double Bass performances from the Peabody Institute of The John Hopkins University. John was a member of the Roanoke Symphony Orchestra between the years of 2000 and 2003. He has also substituted with the Dayton Philharmonic, Richmond Indiana Symphony, West Virgina Symphony, Springfield Symphony, and the Kentucky Symphony.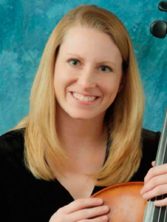 Shelbi Wagner (Cello)
Ms. Wagner is Adjunct Professor of Cello at the University of Dayton and Sinclair Community College. In addition to having performed internationally in Europe and Mexico, Shelbi performs in the Aviatori Piano Trio, the Dayton Philharmonic Orchestra and the Dayton Bach Society. She holds Bachelor's and Master's degrees with honors in cello performance from Miami University and has additional doctoral studies in cello performance and pedagogical practices at the Ohio State University. She has taken masterclasses from such noted artists as Janos Starker and Yo-Yo Ma and believes that music is as much an enjoyable part of life as it is a career and profession!
Heather York (Viola, Violin)
Heather York has been teaching violin/ viola throughout the greater Dayton area for the past 18 years. Aside from teaching, Heather keeps a busy performing schedule with The Springfield Symphony Orchestra (1997-present), The Lima Symphony Orchestra (2004-present), Silver Strings Chamber Players (2012- present), and the violin and clarinet duo Fiddlesticks and Licorice (1999-present). She is also a former member of The Middletown Symphony. Influenced heavily by her classical training, Heather teaches violin students of ages 4 years old and up, and beginner viola.