Dave Edmunson (Fiddle, Mandolin)
Dave Edmunson has been performing traditional music in Southwest Ohio since folk days at the Lemon Tree Coffee House in the mid 1960s through stints in Old-Time and Bluegrass bands performing in the Dayton area. A retired educator, he now lives in the Cincinnati area and continues to perform on a occasional basis with various local musicians.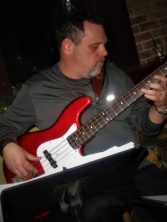 Vinnie Marshall (Electric/Upright Bass)
Born in Lewistown, PA and raised in Bethlehem, PA, Vinnie teaches bass at McCutcheon Music. He spent 24 years playing bass for the Air Force Band and has traveled the globe playing music and received an Ina Love Thursby Music scholarship to Moravian College in Bethlehem, PA. He enjoys good coffee and has a podcast with a fellow bassist called "On Bass and Off Point". A fun fact about Vinnie is that his first gig with the Air Force was for Bob Hope.