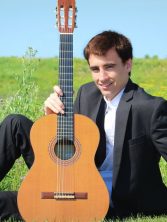 Connor Barney (Guitar, Ukulele, Banjo)
Connor Barney is a classical guitarist from Cincinnati, Ohio. He earned a BM degree from Wright State University, and a MM degree from the Indiana Jacobs School of Music where he is currently a Doctoral Candidate. Under the tutelage of Jim McCutcheon, Connor attended four GFA conventions. He was chosen (twice) by the Juilliard guitar professor, Sharon Isbin, to attend her program at the Aspen Music Festival. With a Doctoral Minor in Music Education, Connor developed a two-semester curriculum for classroom guitar with an innovative ensemble-based learning approach for his dissertation. Outside of the music world, Connor has volunteered at Camp Hope Mountain as a counselor to underprivileged children in rural Kentucky for the past 12 years.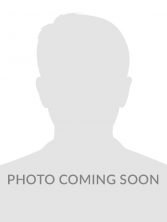 John Bole (Guitar)
John studied classical guitar at the University of Dayton and has taught several guitar styles professionally since 1987. He was the first teacher ever hired at McCutcheon Music and has been with us over 20 years.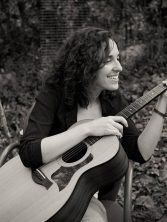 Kyleen Downes (Guitar)
Kyleen earned a Bachelor of Arts degree in Music from Wright State University where she studied classical guitar with Jim McCutcheon. While a student, she performed numerous recitals and participated in the WSU guitar ensemble. She enjoys a wide range of musical styles including classical, folk, pop and rock; incorporating each into her own songwriting. Kyleen is passionate about helping her students achieve their musical goals and encouraging them to explore music.
Dave Edmunson (Fiddle, Mandolin)
Dave Edmunson has been performing traditional music in Southwest Ohio since folk days at the Lemon Tree Coffee House in the mid 1960s through stints in Old-Time and Bluegrass bands performing in the Dayton area. A retired educator, he now lives in the Cincinnati area and continues to perform on a occasional basis with various local musicians.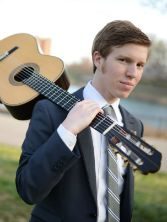 Evan Fiehrer (Guitar)
Evan Fiehrer is a guitarist with degrees from the College-Conservatory of Music at the University of Cincinnati and from the Peabody Institute of the Johns Hopkins University.  An accomplished classical guitarist, Evan has played solo and ensemble concerts throughout the Ohio, Kentucky, and Indiana areas, and along the East Coast as part of the Blue Guitar Quartet.  Evan teaches a variety of styles, including classical, acoustic fingerstyle, pop, and rock guitar.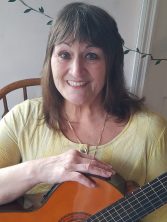 Lee Ann Kinner (Guitar/Voice)
Lee Ann Kinner graduated Magna Cum Laude with a Bachelor of Music in Music Education from Wright State University. Her concentrations were in Voice and Guitar. She attended the Conservatory of Music from the University of Cincinnati and received Certifications in Orff Schulwerk Levels I and II and is a Certified teacher of Kindermusik. Lee Ann has been teaching music at Miamisburg City Schools for the last Thirty years. She wrote the curriculum for Classroom Guitar which won Best New Curriculum of Southwest Ohio in 2000. She has won Teacher of the Year, Master Teacher, and Exemplary Teacher of the Year during her career at Miamisburg Schools.
Lee Ann Kinner has over 40 years experience as a Professional Singer/Guitarist and is known throughout the Dayton and surrounding area for her talent.
She enjoyed teaching Preschool music with Jim at McCutcheon Music and is looking forward to teaching here again. Guitar, Voice, and Ukulele are her specialties
Michael Locke (Guitar)
Michael Locke was raised in South Florida and began playing guitar when he was seven. He attended the University of Miami, majoring in Jazz Guitar. But then he heard the Blues! He found that in Blues music he could completely and freely express himself. Michael now calls Southwest Ohio his home and continues to receive praise as one of the premier blues guitarists in the area. To watch Michael give an introduction to his teaching style, Click Here!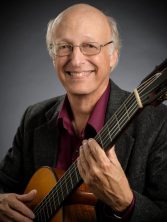 Jim McCutcheon (Guitar)
Jim McCutcheon, faculty associate in guitar, is listed on the Ohio Arts Council Touring Roster. He holds a B.S. in physics from the University of Dayton, a B.M. in guitar performance and a M.M. in Music Education from Wright State University. Because of his college teaching career, his extensive work with schoolchildren K-12 and the success of his music store/teaching facility, McCutcheon Music, which features over 50 professional music teachers for hundreds of students each week, Jim was awarded the 2017 Ohio Goveror's Award for the Arts in Arts Education. For more information about Jim, visit: jim.mccutcheonmusic.com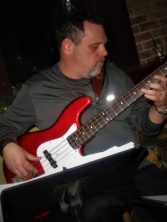 Vinnie Marshall (Electric/Upright Bass)
Born in Lewistown, PA and raised in Bethlehem, PA, Vinnie teaches bass at McCutcheon Music. He spent 24 years playing bass for the Air Force Band and has traveled the globe playing music and received an Ina Love Thursby Music scholarship to Moravian College in Bethlehem, PA. He enjoys good coffee and has a podcast with a fellow bassist called "On Bass and Off Point". A fun fact about Vinnie is that his first gig with the Air Force was for Bob Hope.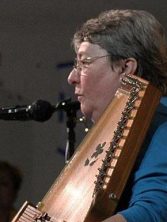 Mary Jo Ward (Mountain Dulcimer, Autoharp)
Mary-Jo competes nationally with her autoharp, and plays pieces including "76 Trombones". She brings her students a wealth of experience in old-time, Appalachian and gospel music.